Happy Wednesday, everyone! Today I have Aarean here from
Color Issue
, which is a really fun blog featuring colorful finds from all around the web. As a definite color enthusiast myself, I always enjoy what Aarean curates or creates for her readers. Today she's making a few simple suggestions for brightening up a drab day. There's a definite psychology behind color, and wearing it can instantly brighten your mood. Enjoy!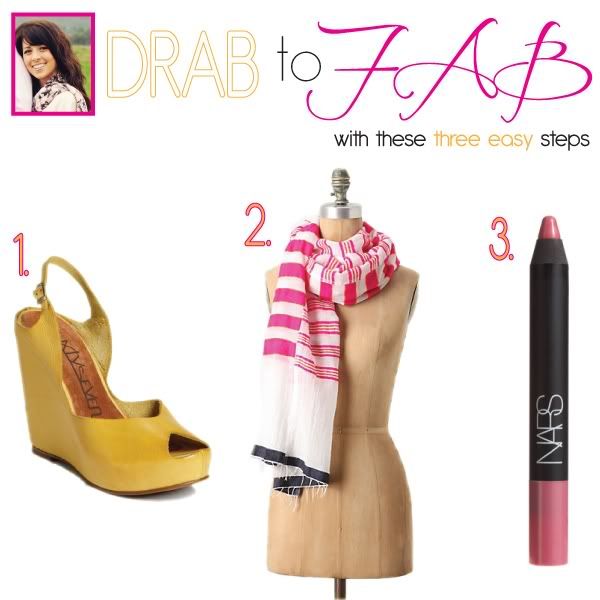 1.sixtyseven wedge 2.anthro scarf 3.NARS lip pencil
Hi! I'm Aarean, the author of The Color Issue and a die hard color enthusiast! If there's one piece of advice I'd give for anyone feeling a little "out of sorts" when it comes to their style... it would be to ADD COLOR! Here are a few of my favorite "frumpy remedies" that always seems to work like a charm...
1. Change those flats or tennies to a

fun wedge or heel

(this will make you feel and look more feminine in seconds)
2. Add a colorful scarf (they make any outfit look put together)
3. lastly

slap on some lipstick

(like my mom always said "lips don't like to feel naked" haha)
**on a sidenote if you're feeling
really ambitious
try painting your nails, that always seems to get me out of my drabby rut--
I have done a few really fun nail tutorials you might want to check out HERE, HERE and HERE!